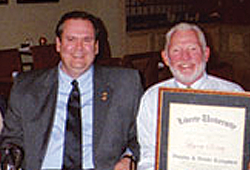 Although Dwayne Kamphuis has a roomful of trophies attesting to his widespread fame as a softball pitching ace, he says his proudest achievement was his recent induction into The Jerry Falwell Legacy Society.

For years Kamphuis toured the country as a member of "The King and His Court," an exhibition softball team founded by the legendary Eddie "The King" Feigner. Fast-pitch softball fans still argue among themselves as to who had the better arm, Kamphuis or Feigner.

Now 75, Kamphuis still uses the blazing speed that dazzled audiences from small towns to 50,000 people in the Houston Astrodome, to share his faith in Jesus Christ.

Dr. Jerry Falwell [Sr.], who watched The King and His Court perform before a capacity crowd in Lynchburg, Virginia, more that 40 years ago, vividly remembered how Kamphuis could strike out batter after batter with ease. In 1965 Kamphuis threw two no-hitters and had an earned-run average of 0.75.

On his last visit to Grandview, Washington, Liberty University's Planned Giving Officer, Rusty Smallwood, presented Dwayne and his wife, Gail, with their framed membership certificate in The Jerry Falwell Legacy Society.

Mr. and Mrs. Kamphuis established a Charitable Gift Annuity with Liberty University and have also left a bequest to Liberty as part of their estate plan.

Kamphuis realized one of his goals recently when he and Gail visited Lynchburg to see firsthand what God is doing on Liberty Mountain. "I cannot tell you how it makes me feel inside," Kamphuis said. "It has had a very strong effect on me knowing this [gift annuity and bequest] is for the Lord Himself, to do with as it pleases Him."