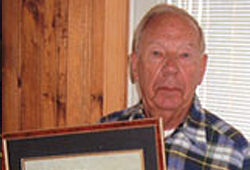 Charles Stone believes in giving. He also believes in helping young people receive a Christian education. Because the Lord has blessed him financially, Charles is dedicated to helping Liberty University grow and move into the future, training more "Champions for Christ" than ever before.

Several years ago, Charles started watching Dr. Jerry Falwell on television. He knew there was a lot of controversy surrounding Dr. Falwell and his strong conservative views, but Charles says he didn't listen to it! "I'm not swayed by the crowd, I make up my own mind about things, and I liked the way Dr. Falwell preached."

Later, he met Harold Knowles from the Estate Planning Department and set up several Charitable Gift Annuities and is considering Liberty in his estate plans. "I wanted to find someone caring and honest to help financially." Liberty University was just what Charles Stone was looking for! Although he has yet to visit the University, he has a trip planned in the near future. He says he admires and respects the Falwell family and Liberty University ... and all of the good things that happen for Jesus Christ in Lynchburg, Virginia!

Charles Stone is more than a good steward of the blessings and resources God has bestowed on him. He is an important part of a special group of people God is using to help ensure the future of Liberty University.