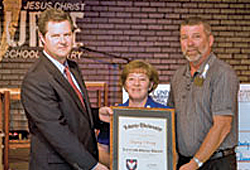 When you talk to Larry and Shirley Barrett, it is clear they love Liberty! They were first introduced to Jerry Falwell and Liberty University through The Old-Time Gospel Hour. They were overwhelmed by Dr. Falwell's godly vision to build a first-rate, distinctively Christian university. Larry remembers that one Sunday, Dr. Falwell asked the television audience to help train "Champions for Christ" by establishing a Christian Will, Charitable Gift Annuity, or some other investment through the Liberty University Estate Planning Department. Larry and Shirley knew immediately what they wanted to do. They contacted the Estate Planning Department and established a Charitable Gift Annuity. They have never regretted their decision!

The Barretts mourn the loss of Dr. Falwell. At the same time, they believe God has a purpose for everything. They also believe the ministry will continue for many years under the direction of Jerry Jr. and Jonathan Falwell. Larry says, "I hope more people catch the vision Dr. Falwell had for Liberty University and share in it through a donation or an investment with the Estate Planning Department."

It is with the help of special friends, like the Barretts, that Liberty University will continue to grow in years to come, training young champions to impact this world for Jesus Christ.