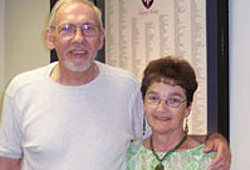 When you talk to Ralph and Joan Campbell several things are immediately evident.

One, they love the Lord. They love each other. They are devoted to their family. And they love Liberty University! Ralph and Joan have supported Dr. Falwell and Liberty University as members of the 15,000 Club and the Board of Regents for more than 40 years. Today, they continue their support with two Charitable Trusts and several annuities, working with Liberty's Estate Planning Department to benefit the continuing vision of the University, and support themselves at the same time.

Ralph and Joan's story is one of miracles. Five miracles, to be exact. After praying for a child for many years and being told that it was medically impossible, Ralph and Joan got on their knees. Like Hannah of the Old Testament, they promised the Lord that if He would bless them with a child, they would give that child back to Him - promising to raise him in the "nurture and admonition of the Lord." God answered their prayers.

Today, Ralph and Joan are the proud parents of three sons and two daughters - all of whom love and serve the Lord. Four of the five attended Liberty University, either as resident students, or through Liberty University online. They are also the proud grandparents of 12...and they are encouraging their grandchildren to attend Liberty University one day.

In 1995, Ralph retired and decided to cash out some of his stock investments and put them into a Trust through Liberty's Estate Planning Department. Ralph says, "The Lord blessed our investments, so we are able to support Liberty University." With the help of the capable Estate Planning staff, his investment portfolio at Liberty has grown through the years. Ralph and Joan are thankful the Lord has allowed them to help Liberty grow and thrive. "Because of Dr. Falwell's love for kids, that is where our heart is. It is why we have continued following his ministry all these years. It is why we give."