Let us help you with your gift plans
A Caring Spirit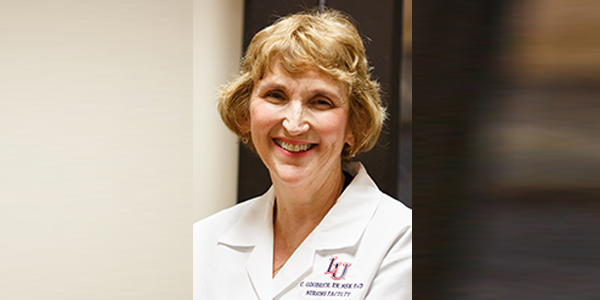 Cindy Goodrich is a special lady. She has served as a registered nurse for 45 years ... and for the last 24, has considered it a privilege to teach in the Liberty University School of Nursing. She is dedicated to training "Champions for Christ" at Liberty, and has helped to turn out the brightest, most caring nurses - serving in hospitals and doctor's offices all across the United States and around the world. She is more than just a teacher, though; she is a friend to her students, impacting their lives in ways that go further than the classroom. One former student says Ms. Goodrich gave her a real love for nursing, "By example, she taught me how to do more than just take care of my patients' physical needs, she taught me to really care about them."
Cindy is also impacting Liberty's future in another very significant way. After caring for her elderly parents, Cindy realized that she needed to make preparations for the day when she goes home to be with the Lord. With the help of the Liberty University Estate Planning Department, Cindy established a fund for nursing scholarships in her family name.
Of her decision to bequeath her resources and personal belongings to Liberty Cindy says, "I do have a great love for the Liberty nursing students, so I felt that I could leave some type of legacy by establishing a fund for nursing scholarships in my family name. I think that this is a wonderful way to help students in need of extra funds and encouragement through an expensive and rigorous program. I hope that I am a good steward of my resources so that there will be ample funds for this at the end of my life here on earth. Liberty University is a wonderful venue to serve the Lord. It has been an exciting and inspiring experience to be a part of the ministry that Dr. Falwell started so many years ago. It really is the most exciting university in the world and one where I feel resources would be put to good use."