Let us help you with your gift plans
Right on Track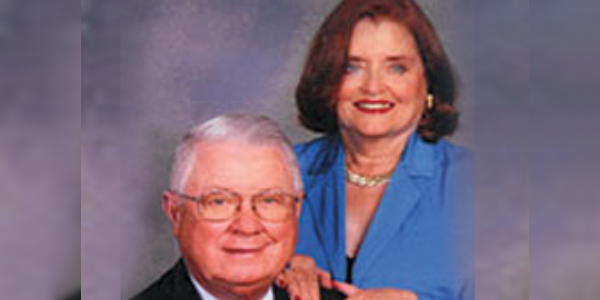 Mr. and Mrs. Forrest McIntyre are good Christian people with strong, godly principles. And they believe in Liberty University and what is happening here to train "Champions for Christ." After nearly 41 years of service, Mr. McIntyre retired as an executive of the Norfolk Southern Railroad. He and his wife Sandra decided to use some of what God had given them financially to support Christian education at Liberty. Working with Everett Foutz, of our Estate Planning Department, Forrest developed an investment portfolio which provides income for his family, delivers tax savings ... and ensures the future of Liberty University.

In 1987, Forrest was working out of Roanoke, Virginia, when he heard about Jerry Falwell and Thomas Road Baptist Church. One weekend he decided to attend the church services. After this visit, he became more interested in the ministry. He was especially drawn to the Moral Majority, and strongly agreed with what Dr. Falwell was doing to help Americans hear and act upon their Christian beliefs. He also learned about Liberty University and says, "The more I learned, the more I liked it."

While watching The Old-Time Gospel Hour, Forrest heard about the Liberty University Estate Planning Department and our Charitable Gift Annuity program. After attending a financial planning seminar in Tampa, Florida, he became very interested in pursuing more information. The seminar had discussed how you can turn a highly appreciated asset (like stock) into a charitable gift annuity and receive many great benefits. He and Sandra would receive income for life, a charitable deduction, and a portion of the income would be tax free for a specific term of years.

Forrest and Sandra did not want to leave their family out so they purchased an insurance policy in the amount of the gift annuity for their remaining family. With the payments from the gift annuity they could make the insurance policy payments and still have income and other tax benefits. Of his investment decisions, Forrest says, "Not only can we give money to a charity like Liberty University in which we strongly believe, but we can benefit from knowing we will be supporting Christian education for future generations." Forrest hopes their youngest grandson and granddaughter will attend Liberty University someday. He says, "May God continue to bless Liberty University."