Let us help you with your gift plans
Friday December 8, 2023
Finances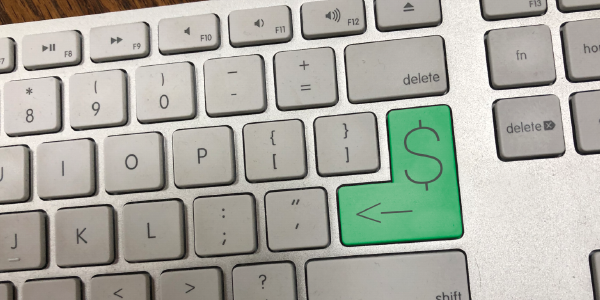 Zoom Reports Earnings
Zoom Video Communications, Inc. (ZM) released its second quarter earnings on Monday, August 22. The company's stock fell 16.5% after revenue fell short of expectations for the quarter.

The videoconferencing technology company reported revenue of $1.10 billion for the quarter. This was up 8% from $1.02 billion reported at this time last year. Analysts expected revenue to reach $1.12 billion for the second quarter.

"In Q2, we continued to gain traction as the platform of choice for enterprises looking to deliver flexible, productive solutions for collaboration and customer engagement," said Zoom founder and CEO, Eric S. Yuan. "Businesses are drawn to the Zoom platform because of our innovation and modern architecture. Our recently launched Zoom Contact Center and Zoom IQ for Sales products saw some great early wins while Zoom Phone delivered milestone results, hitting a record number of licenses sold in the quarter and reaching nearly 4 million seats, up more than 100% year over year."

Zoom posted net income of $45.7 million for the quarter or $0.15 per adjusted share. This was down from $316.9 million or $1.04 per adjusted share at this time last year.

While Zoom continues to be a popular communication tool used by many businesses as employees continue to work from home, the company is now facing a post-pandemic outlook. By the end of the second quarter, the company had approximately 204,100 enterprise customers, this was up 18% from the previous year. Enterprise customers refers to business clients cultivated by Zoom. Zoom expects a slowdown in revenue for the year as workers continue to return to the office. Zoom's guidance anticipates ending the year between $4.385 to $4.395 billion in total revenue.

Zoom Video Communications, Inc. (ZM) shares ended on Friday, 8/26 at $81.41, down 17.1% for the week.


Dick's Sporting Goods Posts Earnings

Dick's Sporting Goods Inc. (DKS) announced its second quarter earnings on Tuesday, August 23. The Pittsburgh-based sporting goods chain's stock remained relatively unchanged after the earnings release.

The retailer posted quarterly revenue of $3.11 billion, down from $3.27 billion at the same time last year and higher than the $3.07 billion analysts expected.

"We are very pleased with our second quarter results, and with our sales up 38% versus Q2 2019, the DICK'S Sporting Goods consumer has held up quite well," said Dick's CEO, Lauren Hobart. "Our inventory is healthy and well-positioned, and we are excited about our assortment for the back-to-school season. We are raising our full year 2022 outlook, which continues to incorporate an appropriate level of caution given today's uncertain macroeconomic environment."

For the second quarter, Dick's reported net income of $318.5 million or $3.25 per adjusted share. This was down from $495.5 million or $4.53 per adjusted share reported at this time last year.

For the quarter, Dick's saw comparable store sales decline 5.1%, despite increased inventory for the back-to-school season. An 8.4% decline in the number of transactions was partially offset by an increase of 3.3% in average ticket sales. The company now expects comparable store sales for fiscal 2022 to decline between 2% and 6% as sporting goods purchases cool off as compared to during the pandemic. Dick's anticipates full year adjusted earnings per share to be between $10.00 and $12.00.

Dick's Sporting Goods Inc. (DKS) shares closed at $106.74, down 1.9% for the week.


Nordstrom Announces Quarterly Report

Nordstrom, Inc. (JWN) reported its second quarter earnings results on Tuesday, August 23. Despite reporting better than expected profits and sales during the quarter, the Seattle-based clothing store's stock dropped 14% following the release of the report.

The company reported net sales of $4.1 billion for the quarter. This was up 12% from $3.66 billion this time last year. Analysts expected revenue of $3.97 billion for the quarter.

"We delivered solid results in the second quarter, with topline growth, increased profitability and continued progress in our strategic initiatives," said Nordstrom Inc. CEO, Erik Nordstrom. "While our quarterly results were consistent with our previous outlook, customer traffic and demand decelerated significantly beginning in late June, predominantly at Nordstrom Rack. We are adjusting our plans and taking action to navigate this dynamic in the short term, including aligning inventory and expenses to recent trends, and we remain confident in our ability to deliver on our long-term strategic and financial goals."

The company posted net income of $126 million, or $0.77 per adjusted share. This is up from $80 million, or $0.49 per adjusted share during the same quarter last year.

The department store chain saw digital sales increase 6.3%, accounting for 38% of Nordstrom's total revenue during the quarter. The company noted that men's apparel had the strongest growth as compared to 2021. Shoes, women's clothing and beauty had double-digit gains. Net sales for Nordstrom Rack grew $1.22 billion during the quarter, this was an increase of 6.3% from net sales of $1.15 billion during the same period last year. Nordstrom updated its guidance and now estimates annual sales will increase between 5% to 7%, with adjusted earnings per share around $2.30 to $3.50.

Nordstrom, Inc. (JWN) shares ended the week at $18.04, down 23.8% for the week.

The Dow started the week at 33,587 and closed at 32,283 on 8/26. The S&P 500 started the week at 4,195 and closed at 4,058. The NASDAQ started the week at 12,523 and closed at 12,142.

Treasury Yields Move Up
U.S. Treasury yields rose early in the week as markets react to the latest unemployment data. Yields continued to climb later in the week despite the Federal Reserve's preferred inflation gauge showing signs that inflation may be retreating.

On Friday, the Bureau of Economic Analysis announced the personal consumption expenditures price index rose 6.3% year-on-year in July, slowing from 6.8% in June.

"While the lower inflation readings for July are welcome, a single month's improvement falls far short of what the [Federal Open Markets] Committee will need to see before we are confident that inflation is moving down," said Federal Reserve Board Chairman, Jerome Powell.

On Thursday, the U.S. Department of Labor reported that initial claims for unemployment decreased 2,000 to 243,000 for the week ending on August 20. This was less than market estimates of 255,000 and marks a one-month low. Ongoing unemployment claims fell to 1.42 million.

"Initial jobless claims will gradually rise as economic growth slows and businesses focus on trimming inefficiencies in a shakier fundamental backdrop," said lead U.S. economist of Oxford Economics, Oren Klatchin. "However, persistently scant labor supply will prevent a spike in jobless claims as employers will be concerned about how long it might take to fill open positions."

The 10-year Treasury note yield closed at 3.04% on 8/26, while the 30-year Treasury bond yield was 3.19%.
Mortgage Rates Back on the Rise
Freddie Mac released its latest Primary Mortgage Market Survey on Thursday, August 25. The report showed mortgage rates increased.

The 30-year fixed rate mortgage rate averaged 5.55%, up from 5.13% last week. At this time last year, the 30-year fixed rate mortgage averaged 2.87%.

This week, the 15-year fixed rate mortgage averaged 4.85%, up from 4.55% last week. Last year at this time, the 15-year fixed rate mortgage averaged 2.17%.

"The combination of higher mortgage rates and the slowdown in economic growth is weighing on the housing market," said Freddie Mac's Chief Economist, Sam Khater. "Home sales continue to decline, prices are moderating, and consumer confidence is low. But, amid waning demand, there are still potential homebuyers on the sidelines waiting to jump back into the market."

Based on published national averages, the savings rate cap was 3.07% as of 8/15. The one-year CD averaged 4.33%.
Published August 26, 2022
Previous Articles
Rivian Announces Second Quarter Earnings
Coca-Cola Earnings and Revenues Rise