Let us help you with your gift plans
Friday December 8, 2023
Finances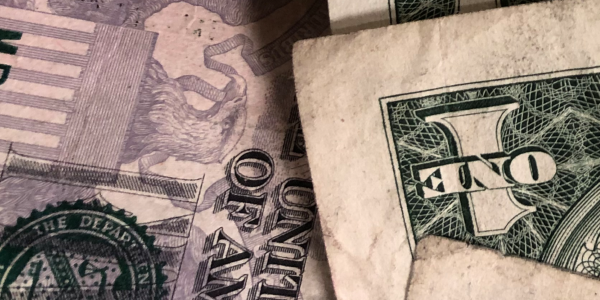 Hewlett Packard Enterprise Reports Earnings
Hewlett Packard Enterprise Co. (HPE) released its fourth quarter and full year earnings report on Tuesday, November 29. The company's stock rose more than 2% following the release of the report.

Hewlett Packard reported quarterly revenue of $7.87 billion. This is up 7% from last year's fourth quarter revenue of $7.35 billion and above analysts' expectations of $7.42 billion. Full year revenue was $28.5 billion, up 3% from $27.8 billion last year.

"HPE had an impressive fourth quarter, generating an outstanding performance across our key performance metrics," said Hewlett Packard Enterprise CEO, Antonio Neri. "We are producing strong financial results as we meet new customer needs with the edge-to-cloud portfolio that only we can deliver. The strength of our culture and commitment of our team members this quarter and throughout the entire 2022 fiscal year enabled us to innovate and take bold actions to pivot our portfolio and bolster our financial position as we head into 2023."

The company announced net losses of $304 million during the quarter, an improvement from a net loss of $2.55 billion during the same time last year. On an adjusted earnings per share basis, the company reported earnings of $0.23 per share, less than the $1.91 per adjusted share this time last year. Net earnings for the full year came in at $868 million.

Hewlett Packard's Intelligent Edge segment revenue was up 18% year-over-year to $965 million. Compute segment revenue was also up with a rise of 16% to $3.7 billion from the same period last year, an increase driven by strategic pricing actions. Storage revenue was up 4% to $1.3 billion, and the Financial Services segment was $857 million, unchanged from last year. HPE noted a goodwill impairment for its HPC & AI Software segments of $905 million. The company announced a regular cash dividend of $0.12 per share on the company's common stock, payable on January 13, 2023, to stockholders of record on December 14, 2022. For the first quarter of Fiscal 2023, the company expects revenue to be between $7.2 billion and $7.6 billion.

Hewlett Packard Enterprise Co. (HPE) shares closed at $16.70, up 6.4% for the week.


Intuit's Earnings Beat Expectations

Intuit Inc. (INTU) released its first quarter earnings on Tuesday, November 29. The software company reported better-than-expected revenue, and while its stocks initially fell 2% following the release, shares traded 4% higher on Wednesday, 11/30.

Revenue for the quarter came in at $2.60 billion, up 29% from $2.01 billion in revenue at this time last year. This exceeded experts' anticipated revenue of $2.50 billion.

"We had a strong first quarter as we innovated and delivered on our strategy to be the global AI-driven expert platform powering prosperity for consumers and small businesses," said Intuit CEO Sasan Goodarzi. "We continue to see proof that the benefits of our financial technology platform are more mission-critical than ever to our customers in an uncertain macro environment."

The company reported net income of $40 million, or $0.14 per share. This was down from $228 million, or $0.82 per share during the same quarter last year.

Intuit, the parent company of TurboTax, Credit Karma and QuickBooks software reported $150 million in revenue for their Consumer Group segment, up from $120 million last year. The company's Online Ecosystem reported a 60% increase in revenue to $1.3 billion. The company's Credit Karma segment also increased its revenue by 2% to $425 million. For the second quarter, Intuit expects an 8% to 9% increase in revenue and earnings per share between $1.41 and $1.45.

Intuit Inc. (INTU) shares ended the week at $407.92, up 3.4% for the week.


Salesforce Posts Quarterly Earnings

Salesforce, Inc. (CRM) posted its quarterly earnings report for its third quarter on Wednesday, November 30. Despite reporting earnings and revenue that beat analysts' expectations, the company's stock fell over 6% following the release.

The San Francisco-based company reported revenue of $7.84 billion, up 14% from $6.86 billion in revenue at this time last year. This exceeded analysts' expected revenue of $7.82 billion for the quarter.

"We are grateful to our customers for their commitment, especially as we help them succeed in this challenging environment," said Salesforce CEO, Marc Benioff. "There has never been a more important time for our customers to connect with their customers in a whole new way."

Salesforce posted net income for the quarter of $210 million, or $0.21 per adjusted share. During the same quarter last year, the company reported net income of $468 million or $0.47 per adjusted share.

Salesforce's subscription and support revenue grew 13% year-over-year, to $7.23 billion. The company's professional services and other revenues reached $604 million, a 25% growth from the year prior. Operating cash flow decreased by 23% from the same period last year to $310 million. For the fourth quarter, Salesforce anticipates an increase in their revenue expecting a range between $7.93 to $8.03 billion. For the full fiscal year 2023, Salesforce expects revenue between $30.9 and $31.0 billion.

Salesforce.com, Inc. (CRM) shares ended the week at $144.59, down 4.87% for the week.

The Dow started the week at 34,276 and closed at 34,430 on 12/02. The S&P 500 started the week at 4,005 and closed at 4,072. The NASDAQ started the week at 11,148 and closed at 11,462.
Treasury Yields Fluctuate
U.S. Treasury yields dropped as the latest inflation data showed signs of easing price pressures. Yields rose on Friday as the job market showed signs of improvement.

On Thursday, the Bureau of Economic Analysis released its Personal Consumption Expenditures Price (PCE) Index indicating slowing inflation. Excluding food and energy, the PCE measured a rise of 0.2% in October, below economists' estimates of 0.3%. On an annualized basis, the core PCE slowed its growth in August at 5%, down from 5.2% in September.

"This morning's data was a goldilocks report as it showed core inflation continuing to drop," said Independent Advisor Alliance chief economist, Chris Zaccarelli. "If inflation keeps coming down, then markets will keep running higher, as investors will conclude that the Fed will not need to raise rates as high, or keep them high for as long, as previously expected."

The benchmark 10-year Treasury note yield opened the week of November 28 at 3.69% and traded as low as 3.50% on Thursday. The 30-year Treasury bond opened the week at 3.74% and traded as low as 3.60% on Thursday.

On Thursday, the U.S. Department of Labor reported that initial claims for unemployment decreased by 16,000 to 225,000 for the week ending November 26, coming in below analysts' estimates of 235,000. Ongoing unemployment claims increased by 57,000 to 1.61 million, exceeding economists' estimated 1.57 million.

"The jobless claims data provide no evidence of a weakening in the labor market through late November," said Conrad DeQuadros, senior economic advisor at Brean Capital in New York.

The 10-year Treasury note yield closed at 3.51% on 12/02, while the 30-year Treasury bond yield was 3.56%.
Mortgage Rates Decline
Freddie Mac released its latest Primary Mortgage Market Survey on Thursday, December 1. The report showed a slight decrease in mortgage rates.

The 30-year fixed rate mortgage rate averaged 6.49%, down from 6.58% last week. At this time last year, the 30-year fixed rate mortgage averaged 3.11%.

This week, the 15-year fixed rate mortgage averaged 5.76%, down from 5.90% last week. Last year at this time, the 15-year fixed rate mortgage averaged 2.39%.

"Mortgage rates continued to drop this week as optimism grows around the prospect that the Federal Reserve will slow its pace of rate hikes," said Freddie Mac's Chief Economist, Sam Khater. "Even as rates decrease and house prices soften, economic uncertainty continues to limit homebuyer demand as we enter the last month of the year."

Based on published national averages, the savings rate was 0.24% as of 11/21. The one-year CD averaged 0.90%.
Published December 2, 2022
Previous Articles
Aflac Posts Third Quarter Earnings