The planned giving officers and staff at Liberty University have invested their lives into the vision of Training Champions for Christ. Their goal is to show you how proper estate planning can not only help offer much-needed resources at Liberty, but provide numerous benefits to you and your family.

Our officers and staff members have been thoroughly trained in all aspects of planned giving. They are experienced experts in the various types of planned gifts, including charitable gift annuities, Christian wills, living trusts, life estates and many other means that will enable you to achieve your financial dreams while benefiting Liberty University.

I encourage you to contact our office and discuss your estate planning needs with one of our planned giving officers.


Jim Nichols
Vice President of University and Athletic Development
Click on your state to contact your Liberty University representative:
Contact Information
Liberty University
Planned Giving Department
1971 University Blvd.
Lynchburg, VA 24515
Telephone: 1-800-543-5309
Fax: 434-522-0417
Office hours: Mon.-Fri., 8:00 am - 4:30 pm EST
Email:
plannedgiving@liberty.edu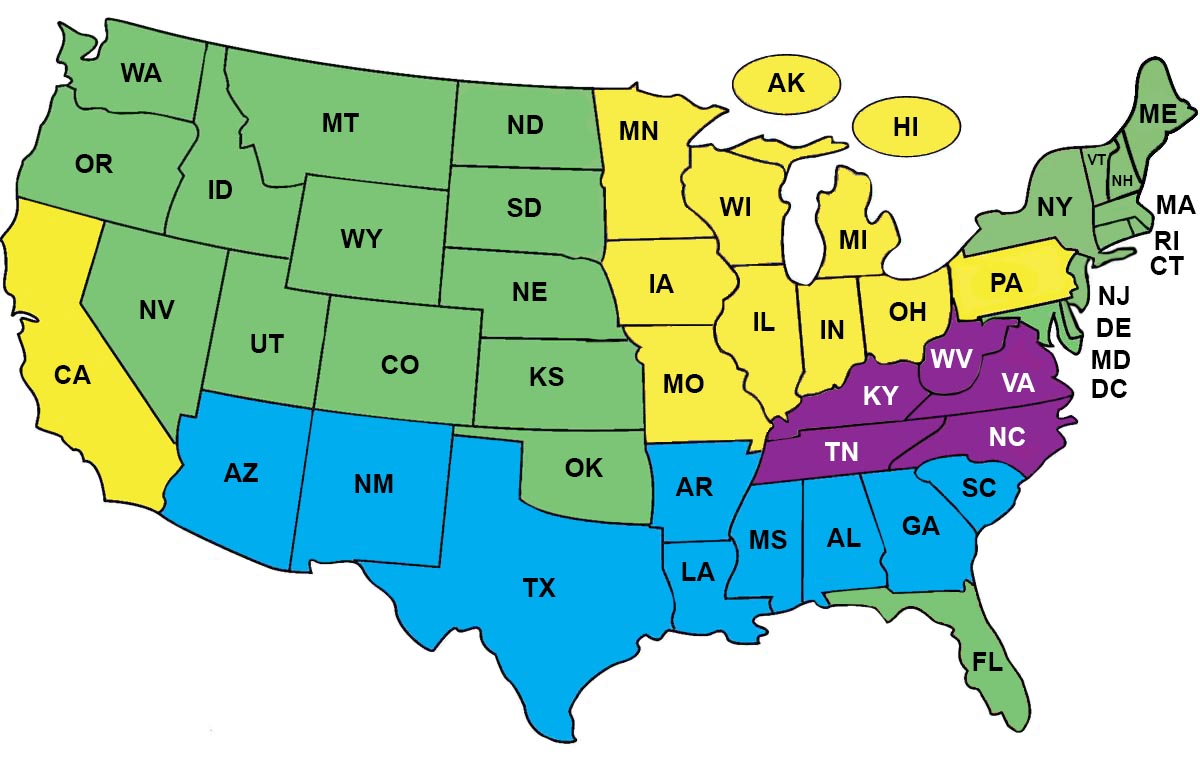 State Assignments:
Alabama, Arizona, Arkansas, Georgia, Louisiana, Mississippi, New Mexico, South Carolina, Texas (Map color Blue)

Everett Foutz
(800) 543-5309
(434) 592-6017
ewfoutz@liberty.edu
Everett and his family have served the ministries of Thomas Road Baptist Church and Liberty University since 1980. He joined the Planned Giving Department in 2003 after a successful 32 year career in the retail jewelry business. Since 2003, he has been very blessed to have made so many friends who love our ministry and support us with their prayers and financial support.

For 13 years his wife Dianne taught at Lynchburg Christian Academy. Presently Dianne and their daughter Emily are on staff at Liberty University. Their son Nathan and his wife Robin also reside in Lynchburg.
State Assignments:
Kentucky, North Carolina, Tennessee, Virginia, West Virginia (Map color Purple)

Harold Knowles
(800) 543-5309
(434) 592-6019
hknowles@liberty.edu
Harold was saved in the same church where my father, Dr. Jerry Falwell, accepted Christ. He is a Charter Member of Thomas Road Baptist Church and sings in the TRBC Choir.

Both Harold and his wife Ann travel together to meet with donors. They are actively involved in the Hope -A-Glow prison ministry.
State Assignments:
Colorado, Connecticut, DC, Delaware, Florida, Idaho, Kansas, Maine, Maryland, Massachusetts, Montana, Nebraska, Nevada, New Hampshire, New Jersey, New York, North Dakota, Oklahoma, Oregon, Rhode Island, South Dakota, Utah, Vermont, Washington, Wyoming (Map color Green)

Wyatt Wilson
(800) 543-5309
(434) 592-4871
wwwilson@liberty.edu
Wyatt was born right here in Lynchburg Virginia and he and his wife Gwen are active members of Thomas Road Baptist Church.

Mr. Wilson was a founding member of the Old-Time Gospel Hour Quartet, traveling as an ambassador of Liberty University and ministering in churches all across the United States and Canada for eight years.

Sharon Baldwin
Administrative Assistant / Office Manager

Connie Schofer
Office Assistant