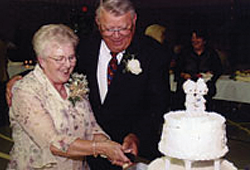 Dr. Frank Schmitt, a Liberty Baptist Theological Seminary professor, and his wife Bobbie recently celebrated their 50th wedding anniversary. It's at this point that many people begin to make financial plans for their future - and well beyond.

Schmitt has been at Liberty for 39 years; he headed up the Master of Religious Education program for 25 years and the Doctor of Ministry program for 10. As he continues to teach courses in church administration, church leadership and Christian education, his passion for students to excel in these areas has only grown.

"I think it's been exciting to be a part of a new school and to see the phenomenal growth that we've experienced. I think we have attracted some of the potentially best pastors, church workers and missionaries in the nation, and of the world really. I think I've had an impact with some really dynamic people."

That's why the Schmitts have decided to include Liberty in their estate plans.

They have established an endowment that will fund a cash award to accompany the annual Dr. Frank Schmitt Doctor of Ministry Graduate Award, "for the one who is doing the best and has the potential of doing great things," he said.

They are also working on establishing a need-based scholarship for Doctor of Ministry students, for those in the pastorate in smaller churches that can't afford to pay for their continuing education. The fund would be an open account, for alumni or fellow faculty who wish to supplement it in the future. "It will be perpetual, that's the wonderful thing about endowment - it will be there until the Lord comes, to help students," he said.

The Schmitts contacted Earl Sargeant in Liberty's Estate Planning Department to plan their will and subsequent scholarships. Schmitt was Sargeant's mentor in his doctoral program at LBTS.

"I am very impressed with the personnel. ... They care about Liberty, but they are all pastors at heart and they care about the people who are interested in supporting Liberty," Schmitt said.

And he said they take special care in customizing clients' plans. "An endowment could be established that would be for anything - so if there's a particular area that someone wants to see supported, the Estate Planning Department will work with them to see that their intentions are carried out."

With their planned gift to Liberty, the Schmitts want to be an example to others.

"We hope it will be an encouragement to people here [at Liberty], but also to people out there because they need to know that we believe in Liberty, and not only have we given a large portion of our time and talent, but we've designated part of our treasury as well. Even after we're no longer physically able to make a presence, we can continue through endowed giving to support what we've been a part of."

You also may want to make it easy and convenient to have a bequest included in your will. The language link below shows how a bequest can very easily be included in your will.

You might find it helpful to print this page and the bequest language. Please feel free to give this information to your attorney. If he or she has any questions, please have him or her contact the Estate Planning Department at 1-800-543-5309 or email us at luf@liberty.edu.

Click Here to review sample bequest language.