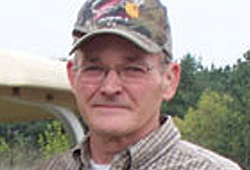 "It is a great ministry all around, there are a lot of different areas to support, so anyone can find an area where they want to help," says Mike Martin of Jerry Falwell Ministries and Liberty University. And he should know! In the 80s, through his church, Mike was introduced to the ministry of the Liberty Godparent Home for unwed mothers. From there, he learned about Liberty University and became a member of the 15,000 Club, to help provide scholarships for needy and deserving young people. For many years, he has faithfully supported the work of the ministry as a Faith Partner.

Mike and his mother were able to visit Liberty University in 1987 and were quite impressed with what they saw. They could tell the students were getting a great education, while submersed in a "good, Christian atmosphere."

As the years passed, Mike was more financially able to contribute in a greater way, so he approached the Estate Planning Department at Liberty University. Geary Gadomski was able to sit down with Mike and explain how a Charitable Remainder Trust would give him income for life, bypass capital gains taxes, and give him an income-tax deduction. At Mike's homegoing the remainder of the trust will help ensure the future of Christian education.

"We need good Christian young people to help lead our country ... and keep things going in all fields," Mike says. He is honored to use what God has given him to train those future leaders, teachers, missionaries and "preacher boys" at Liberty University.